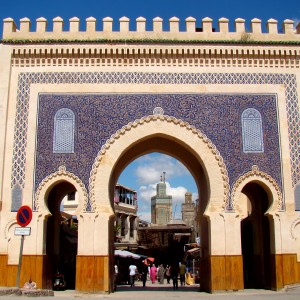 Bab Boujloud Fes Morocco
Bab Boujloud, also known as the Blue Gate, is a historic gate located in the city of Fes, Morocco. It is one of the main entrances to the Fes el-Bali, the UNESCO World Heritage Site and the old city of Fes. The gate was built in the early 20th century and is known for its intricate tilework and ornate decoration. This is included on our Fes Cultural Tour
The gate is located at the end of the Talaa Kebira, the main street of the old city, and it serves as the entrance to the Bou Jeloud Gardens. The gardens were built in the early 20th century and feature a variety of plants and flowers, as well as a small palace. The gardens are a popular spot for locals and tourists alike, and they offer a nice place to relax and enjoy the beauty of Fes.
Bab Boujloud is also a popular spot for tourists, as it offers a great view of the old city and its walls. The gate is open to the public and can be visited at any time during the day. It is also a great spot for photography.
It is worth noting that in the evening the gate is illuminated, making it even more beautiful and the view of the entrance to the old city is even more impressive.
Bab Boujloud, also known as the Blue Gate, is a historic gate located in the city of Fes, Morocco. It is one of the main entrances to the Fes el-Bali, the UNESCO World Heritage Site and the old city of Fes. The gate was built in 1913, during the French protectorate era, by the French architect Paul Tournon, who was responsible for many of the modernization works carried out in Fes at that time.
The gate was built as part of a larger project to improve the infrastructure and public spaces of the city, and it was designed to be a grand entrance to the old city. The gate is decorated with intricate tilework and ornate decoration, and it is designed to reflect the traditional Moroccan architectural style.
Bab Boujloud was built to enhance the beauty of the city of Fes and also to connect the new city, Fes el-Jdid, to the old city. It was also meant to serve as a symbol of the French presence in Morocco and to showcase the French architectural style.
The gate is an important historical site that reflects the political and social history of Morocco during the French protectorate period. It is a great example of the blending of the traditional Moroccan architectural style with the influence of the French architecture, and it is a popular tourist attraction.